We are constantly getting great feedback from our customers about how well Purely Organic is working for them. If you have a story you'd like to share, please Contact Us, and we'll be happy to post it.
Daylilies
I used Purely Organic as a top dressing on my daylily seedlings from last year when I lined them out in the spring, and many of the plants have increased – as many as four new fans from one. They were all single fans when I set them out.
– Gene C., Newberry, SC
Orchids
I wanted to let you know that Purely Organic seems to agree very well with orchids. I tried it two ways on selected plants. One way was to put some in small pieces of pantyhose and put three or four of them on top of the pot. The second way, and much easier, was to sprinkle some smaller potting mix over the very open and chunky mix, then sprinkle the Purely Organic over the top all over the pot. The smaller mix keeps it from washing down and out the pot.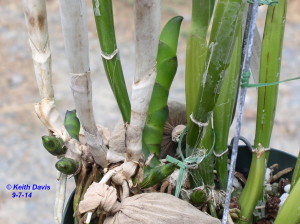 So far, every plant I have tested it on seems to grow better with improved root action. The second thing I have noticed is that plants that have traditionally not thrown out more than one growth per year are breaking eyes on the back bulbs. One plant in particular is Dark Emperor "Black Caesar". This came from RE Post and he got it decades ago from RH Gore. The plant had never made but only one growth per year, even for me. However, this year, it made a double front lead and three back bulbs have sprouted very stout new growths. All the growths appear to be totally normal and not deformed like when using those hormone pastes. I have had similar results with a few other plants as well. So, not only does it do well in the garden on lilies, etc., but it seems to have a definite positive effect on orchids.
Keith D., Reidsville, NC
(Pictures are used with permission from Keith Davis.)